Floaters are small pieces of debris that float in the eye's vitreous humor (the clear gel that fills the space between the lens and the retina). This debris casts shadows onto the retina, it's these shadows that you are seeing "floating" across your field of vision.
Laser Floater Treatment is a non-invasive procedure that can significantly reduce the visual disturbance caused by "floaters". With LFT there is no downtime, so you are able to return to normal day-to-day activities right after treatment without the hassle of visual floaters.
Dr. Rudd will administer eye drops to provide a mild anesthesia. A contact lens will then be placed on your eye, with the laser light delivered through a specially designed microscope.
During LFT, you will likely observe small, dark specks/shadows – signaling that the floaters are being evaporated into small gas bubbles. These gas bubbles quickly dissolve and resorb into the vitreous.
Each treatment session lasts about 20-60 minutes and most patients will need to undergo two treatment sessions, sometimes three, in order to achieve a satisfactory result.

• Freedom from annoying visual floaters
• Fast recovery – your vision will improve almost immediately
• Clear vision – 60% to 90% improvement in the size, severity and frequency of floaters
• Quick and easy treatment – only 20 – 30 minutes
• Safe – LFT is a safe and effective procedure to reduce visual floaters
Most patients who have floaters in their field of vision are good candidates for LFT. Patients over the age of 40, who are near-sighted and have had previous eye surgery are more likely to experience floaters.
This treatment uses nanosecond pulses of laser light to evaporate/vaporizes floaters and is clinically proven to be safe and effective.
Laser and vision correction technology has continued to evolve and improve over the last 20 years,
and the best technology produces the best results.
We are dedicated to keeping up with latest technology,
because providing you the best result possible is what matters to us most!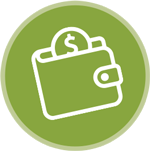 All-Inclusive Pricing + Easy Financing Options
At Aurora LASIK we believe that clear vision free from should be affordable.
We strive to make LFT as affordable as possible on any budget. We are pleased to offer our patients our BEST FINANCING EVER!
Our price for Laser Floater Treatment is $2,000 per eye.